Recently I was asked by some of the readers at LifeHacker if I knew of a program or way to backup and restore the profiles for their Mozilla Firefox installs. The first program that came to mind was MozBackup. This is a program that I would highly recommend for anyone who needs to backup their Mozilla product profiles.
There are two versions available at the moment...the Stable Version (1.4.8) and a new Alpha Version (1.4.9) that was released on October 28, 2008.
Note:
The Alpha Version supports the latest developer versions of Firefox 3.1 and Thunderbird 3.0.
I used the Stable Version for this article and would recommend using it rather than the Alpha Version for the moment (to give the Alpha Version a little more time to get smoothed out...).
Note:
MozBackup works with Windows only.
UPDATE:
The website Support/FAQ page only lists that there is not a version for Linux. There is no version of MozBackup for Mac either. :( My apologies to everyone for the error in the article.
Programs That MozBackup Is Compatible With
Firefox (1.0 - 3.0), Thunderbird (1.0 - 3.0 Alpha 1), Sunbird (0.3 - 0.8), Flock (1.0 - 1.1), SeaMonkey (1.0a - 1.1), Mozilla Suite (1.7 - 1.7.x), Spicebird (0.4), and Netscape (7.x, 9.x). Both versions (1.4.8 & 1.4.9) will also work with Portable Firefox and are able to do automatic backups.
Note:
MozBackup did detect the profile for my Spicebird 0.7 install.
Things That MozBackup Creates Backups Of
General settings, e-mails, address books, bookmarks, history, sidebars, user styles, extensions, saved passwords, cookies, saved form details, downloaded file lists, certificates, and the cache
Note:
While I could not find a listing for themes, MozBackup did a wonderful job of adding mine to the backup file.
Weblinks For MozBackup
♦
MozBackup Homepage
♦
MozBackup Support/FAQ Page
♦
MozBackup Download Page
♦
PDF Instructions For MozBackup (2006 - For MozBackup 1.4.5)
*Still very up-to-date for use with version 1.4.8*
Since I had been planning to do a complete uninstall of my default Firefox and go back with a clean reinstall, it was a perfect opportunity to run this program and share the results with you. Since I noticed on the homepage that MozBackup now works with Portable Firefox installs, I decided to use a portable for the restore part of this test.
Note:
The portable install used for this article was a fresh install without tweaks or changes of any kind.
Here are the results from when I used MozBackup...
Differences I Noticed Between My Portable And Default Installs
♦ Copied all of my themes as well as all of the extensions
♦ My Stylish scripts carried over without problems
♦ All of my plugins were copied over to my portable
♦ All my about:config tweaks were transferred
♦ The extensions that I had that were for older versions of Firefox (4 in all) showed the non-compatibility symbol in my portable install (easy to make compatible with the Mr. Tech Toolkit extension though)
♦ The Free Download Manager extension was disabled in my default install, but was enabled in the portable install
♦ Did not backup any of my search engines
I was extremely pleased with the final result after restoring my profile to the new portable install on my computer. Except for a few minor differences, I had a
literal clone
of my original default install. Depending on the number of extensions, themes, etc., your backup file will vary in size. Mine was 80.2 MB...but I also had 60+ extensions as part of my default install.
I have included screenshots below of each step of the backup as well as the restore processes for when I used MozBackup on my computer.
MozBackup Creating A Profile Backup Of My Default Install Of Firefox 3.0.3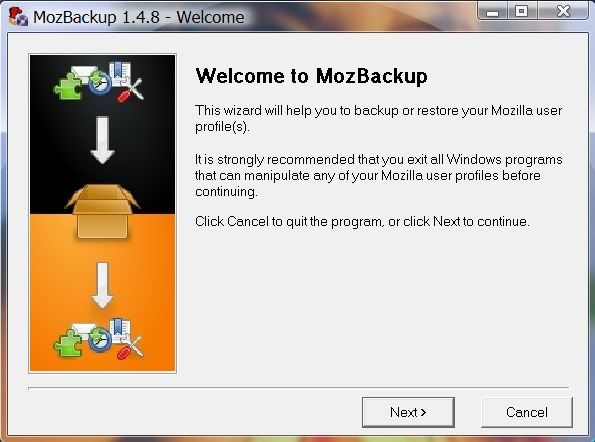 *Select the program that you want to create a backup for from the list.*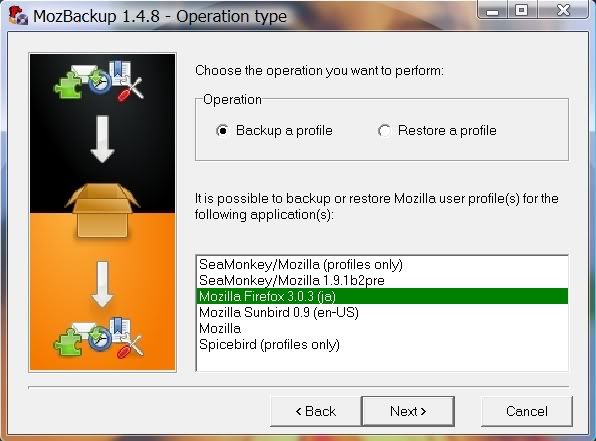 *Select "default" to begin the backup process.*
*I chose not to password protect this particular backup.*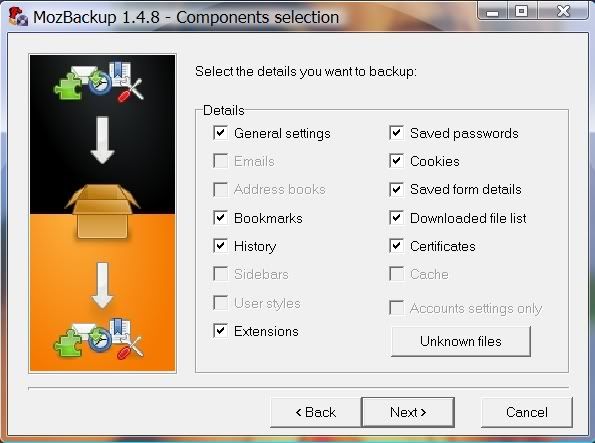 *A sample of what the Unknown Files window may look like for you when you click on it.*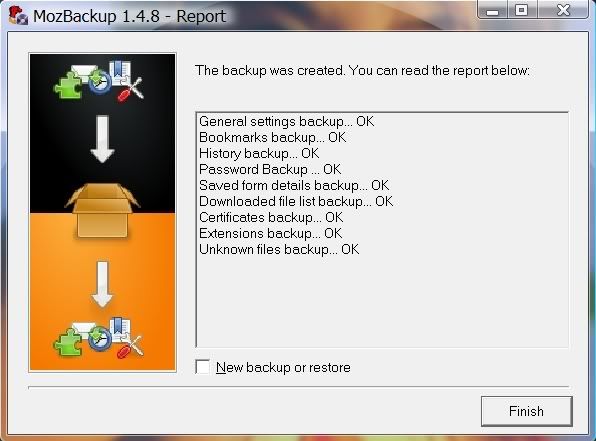 MozBackup Restoring The Profile Backup To A Fresh Install Of Portable Firefox 3.0.3
*Select the program that you want to restore a profile for from the list.*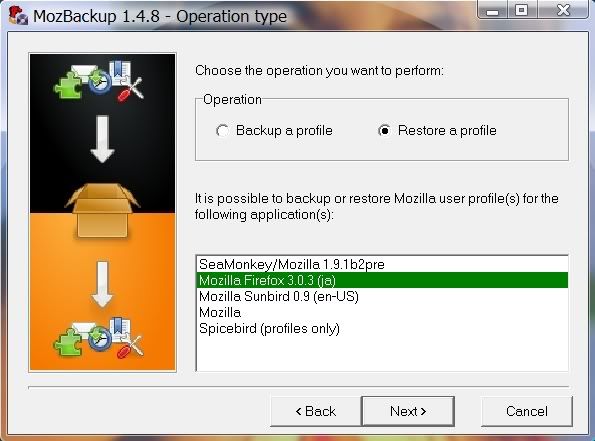 *Select "default" to begin the restore process.*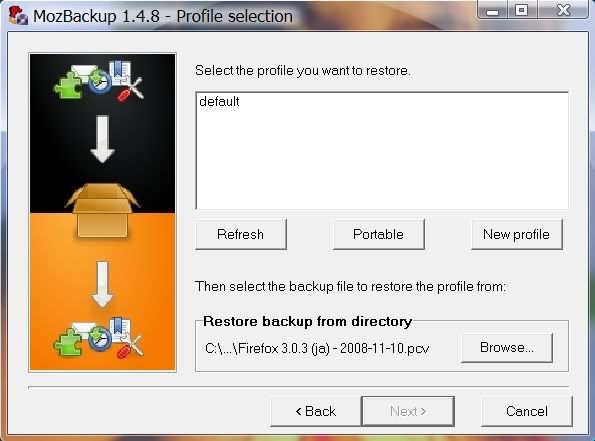 *Once you select "Next", browse to the profile directory that you want to install your profile backup in.*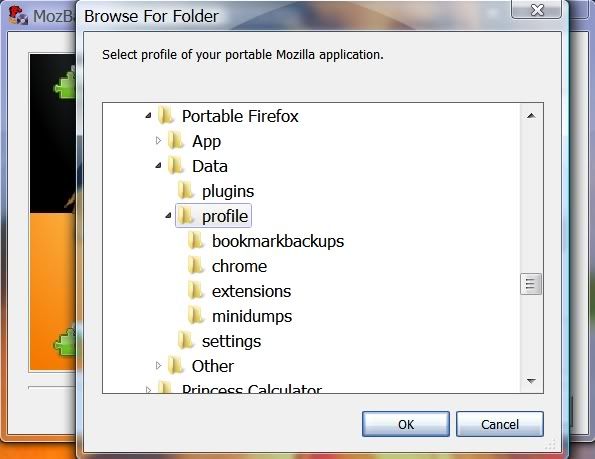 *I needed to select the "Portable profile" here since I was not restoring to the "default".*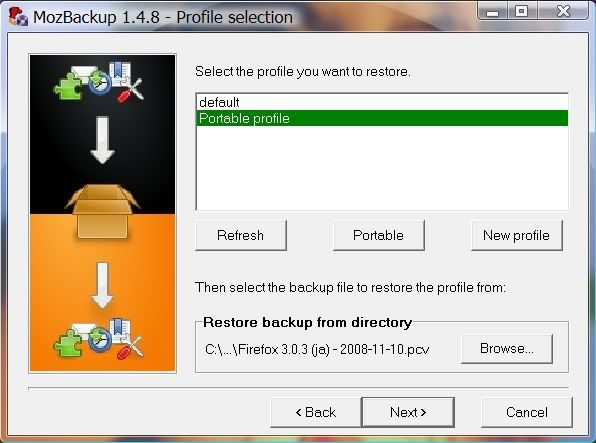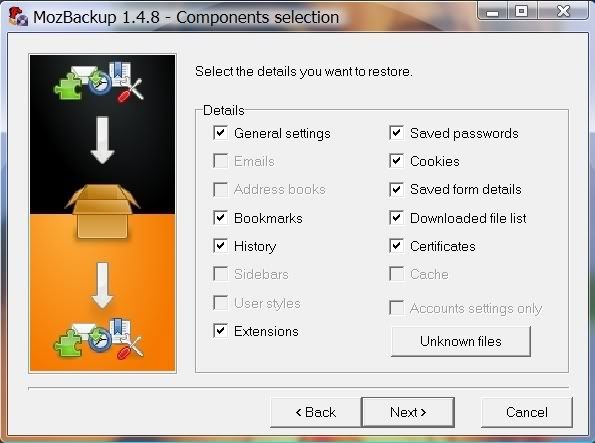 *Select "Yes" to overwrite the existing files in the profile.*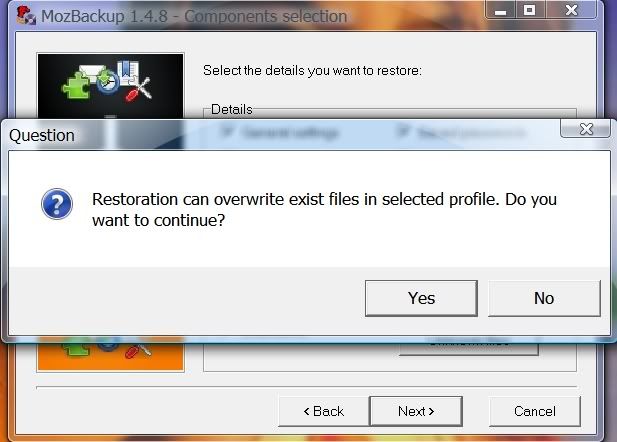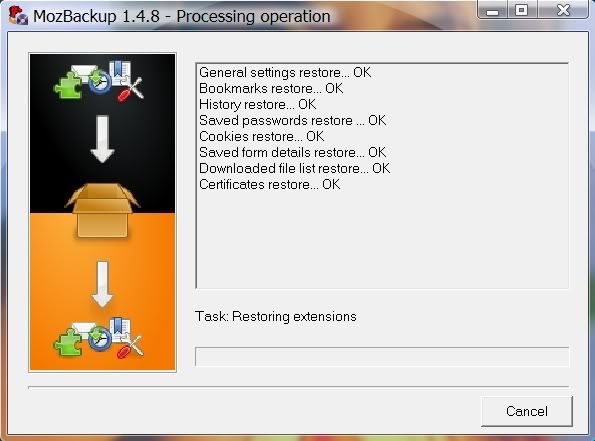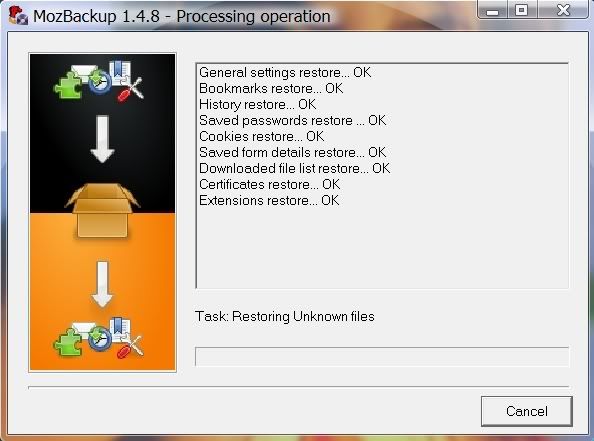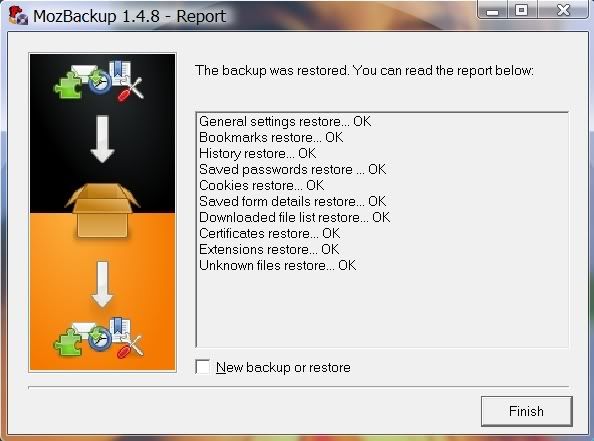 Currently Feeling:
creative